So, You Want to Build a Pool?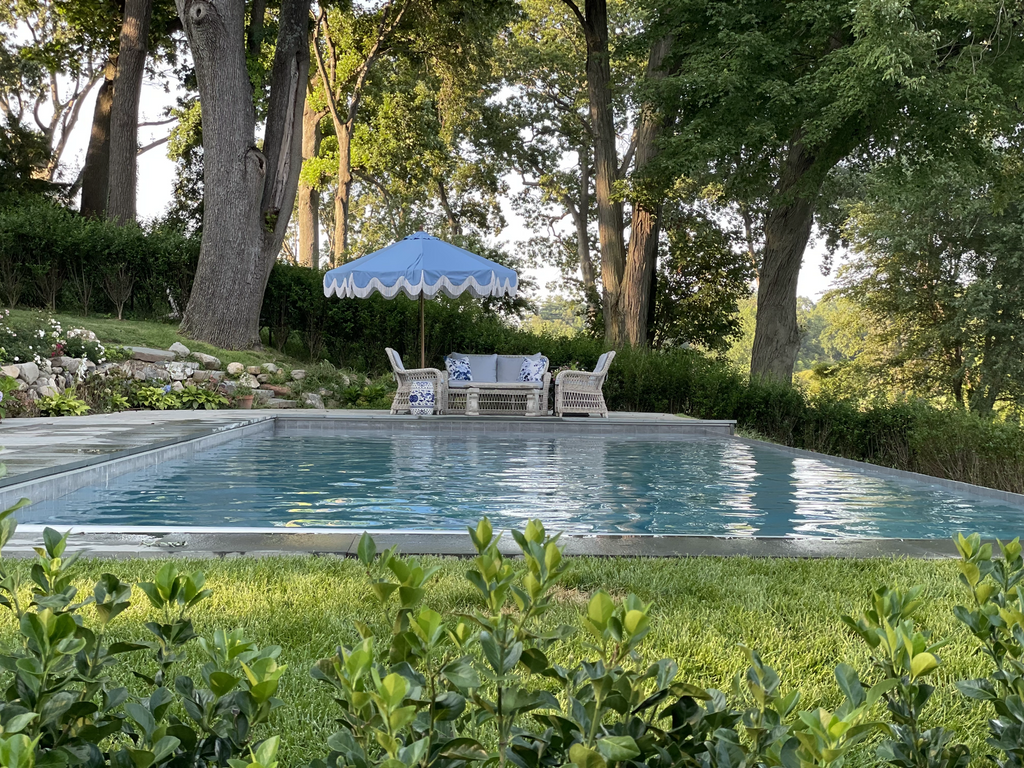 After 2020 and 2021 stared us square in the face and said "not today junior" many decided to take it upon themselves and get their own pool at home. With some beaches closed for most of quarantine, and people in and out of sheltering in place, it is a great problem solver. It occupies children, and allows you to build a place you never have to...gulp...leave! With summer almost coming to a close, and delays still very much a part of reality, this is a great time to get your plans in place so you are ready to go next year. Here is what you need to know if you are considering putting a pool in.
Researching pool companies is undoubtedly where you start in your process. Google is your friend. Start researching and calling around to get a free consultation. Ask your friends and neighbors for referrals, if they had a good experience. Pool companies will be able to tell you right off the bat how long it will take them to get to the construction phase of your project. There will likely be a wait list. But if you play your cards right this fall and winter, you could be all set to break ground in just a few short months.
Though permits and procedures for a pool vary from state to state, and county to county, it is required that you get a permit before you start building. You can apply for the proper permits on your own, or ask your pool contractor to help you with this. Most oftentimes the permit process requires you to submit documents by filling out appropriate forms and submitting the projected pool design, accompanied by a check. Once you are approved for your permit, you can begin building. Once the pool is completed, it will need to be inspected to be sure it is up to code (safety, fencing...). Then the permit can be closed.
In order to get your permit your town or city may want to know the pool design. Where will it be? How large will it be? How close is it to your house or your neighbor's house? This is more for safety and code purposes, and less for design. While you are working on getting your permits you should talk about the length of pool you want, shape, and gradient. If you want a diving board, the pool must be a certain depth in the deep end. Having the answers to all of these questions will help you go through the building process smoothly.
Deciding between how you line and build your pool may come down to price. Vinyl is most cost effective compared to gunite.
Will need replacing after a few years
But buyer beware, mark ups and shortages will apply to both styles of pools, unfortunately. Ask the pool company about the timing of both, and weigh out the pros and cons which will make the pool suitable for your family and lifestyle.
Salt pools are becoming increasingly popular, as they are healthier for swimmers and require a little less maintenance in terms of added chemicals. While some salt water pools do not have that chemical smell that seems to linger after a swim, both kinds of pools still require chemicals to kill bacteria. Both types of pools are considered safe if you are treating them properly and having them maintained weekly.
The pool coping is what separates the pool from the surroundings, and is often made of stone or concrete because they are non-slip. Many people choose between travertine, bluestone, limestone, and a wood deck. My personal favorite is bluestone, even though it gets a little hot on your feet. The look is stunning and when people are splashing around in the pool, it's not so bad. Your coping can be as wide as a single piece of stone or as big as you want your patio to go. If you are building a patio around the pool, a reputable pool company will suggest waiting a few months for the pool and surroundings to settle before constructing the patio. You can get around this by pouring a concrete foundation for under the patio in order to build right away, but this is an added cost so it is important to weigh out your wants and needs.
Where you want the stairs to be and which direction you want the gradient to go is an important step with deciding how you want your pool to function for your family. The stairs can be on the long side, the short side, or in corners. And the pool can go shallow to deep in either direction as well. Think about how you enter the pool area, where people will be putting their stuff down, and where people will hang out if they are not in the pool. Having a sundeck is also something to consider if you have small children or if you like to lounge in the pool, as opposed to swim.
In order to have a diving board, your pool must have a depth of 8 feet in the deep end. If your pool is not particularly long, you must take into consideration that the gradient of the pool will be strong in order for it to get that deep. This will mean less standing areas in the shallow end. Many people are doing away with diving boards because "lounge pools" have become more popular, however this is very family specific and you should put your family needs first.
If your pool is being built on a hill, you can have either a retaining wall built on the sloping side or have an infinity edge. Pools that have a retaining wall give you a nice opportunity to landscape the one side. For example, you can use privacy trees, climbing roses, or large rocks/boulders. If you would like to have an infinity edge, the cost is 20% higher, but you get a seamless look of the water going over the one edge. The far side is essentially a retaining wall that spills into a trough where the water recycles itself back into the pool.
Regardless of whether your pool will be gunite or vinyl, there will be many choices on color for the basin of your pool. Your pool company will show you samples or photos of all the selections. Light grey gunite pools are very popular because the pool water still looks blue but it is not "Tiffany box" blue. Take into consideration your surroundings and how much sun or shade you have. This is a personal preference! The color of your vinyl or gunite should be whatever you would like, and how it will blend nicely with your yard and home. The same goes for the tile you pick under the coping in the pool, if you are building a gunite pool. Be sure to get samples and lay them outside at the pool area.
Auto covers are increasingly popular as they are very safe for families with young children. They cost around $20,000 and roll up like a shade under the coping via a switch near the mechanicals. Not only are auto covers safe, but it helps conserve energy, keeps the heat in, and keeps debris out of the pool when it's stormy or windy. Your pool must be rectangular shape, and not kidney or irregular, if you want an auto cover. Fencing around your pool, will still be required, and you will still need a loop lock in the winter time.
Your construction begins with the hole being measured and staked, and dug with machines. If you are doing a gunite pool, the steel rebar will be constructed on site and your pool will start to take shape as the shell is created. This process creates the walls, floor, and stairs of your pool. When it's time to shoot the gunite, the gunite will stick to the steel shell to create your pool. The pool will need to be filled, treated, and goes through a cleaning and curing process before it can be filled entirely to swim.
It is important that you, or your pool company, checks with your local and county codes on the specific requirements of gates and fencing. Your pool will have to have a fence either around your property or directly around your pool. You will not be able to get your C of O and close out the permit without it. Some types of fencing are; split rails (likely with chicken wire), chain link with privacy hedging, and stone walls.
Weekly maintenance by a pool cleaning company is generally the rule of thumb. They will come once a week to clean the pool, check the levels, and maintain chlorine or salt levels. Many people will try to skirt this and maintain the pool themselves, but oftentimes it becomes a chore too overwhelming than the upside is of saving the money.
I hope this editorial helps you understand the pool building process and the decisions that will need to be made in order to get it done. If you would like a pool for next year, it is best to get your ideas in order now and start getting on some lists. You'll be poolside with a cocktail in no time! -Chrissie
20 x 45 (including an 8 foot sundeck)
Bluestone coping, bluestone patio, hand picked!
Pool Builders: Custom Pools Long Island, Ronkonkoma NY
Pool Maintenance: Dingman Pools, Bohemia NY