Building a Kitchen from Start to Finish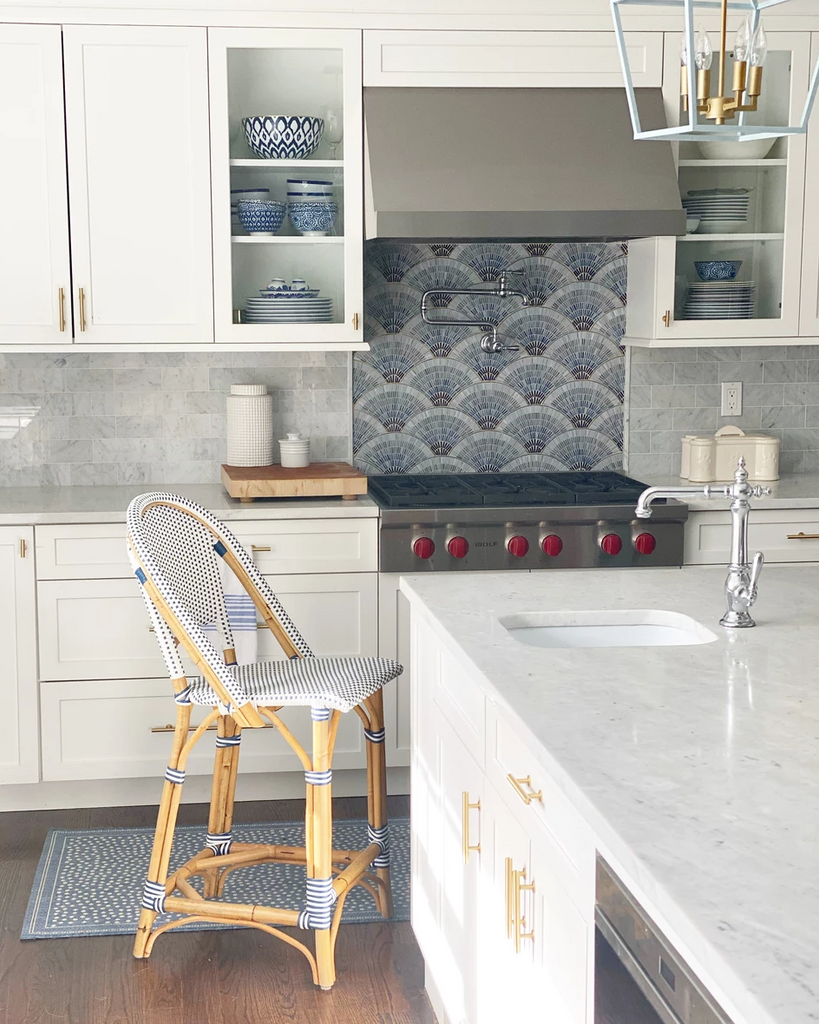 It is without a doubt that having a beautiful kitchen is one of the best selling points of your home. It is a wise place to invest, and will attract more buyers. But even if you are not selling your home, renovating your kitchen will improve the overall look of your home and help elevate the rest of the spaces. The kitchen is not only the place where we eat...we are doing homework here, sifting through mail and paperwork, and gathering with friends. I am sharing our journey, from start to finish, on how we built our kitchen.
Our kitchen started with blueprints, the blueprints from our home and the blueprints for the design of the kitchen. Tackling this first allows you to know what kinds of cabinets you want and where. A main point to highlight in this process is to have your sink, oven, and fridge near each other. Think of a "triangle" pattern. Our kitchen was built around a large window, showcasing water views. We wanted that to be the focus.
After picking out our cabinets and working on the design with a cabinet company, we picked out our appliances. It was going to take a few weeks to be delivered, so this needed to be done early. We then headed to the stone yard to choose countertops. Schedule this early in your renovating plans so you have time to find the right one. Sometimes it can take several trips to find the slab you like, and for us we were slightly at the mercy of needing a particular quantity of slabs. Our island is just over 10 feet long and required its own slab.
It was snowing when we went, and it took a few visits, and a few photos sent to us of slabs that were newly in, before we found the right ones. We knew right away that we wanted marble. (If you're on the fence, check out my instagram story highlights for more details on marble and how we ultimately decided).
Our kitchen was then delivered, with each cabinet in its own a box. The cabinets are then assembled and laid out where they are going to go. It was at this point we decided upon hardware. Drawers had long pulls, long cabinets had medium pulls, and smaller cabinets had smaller pulls. We bought a few extra just in case we miscounted, or changed our mind on a cabinet.
The shaker style cabinets went up and the drawers went in. And all I can say about that is...Rome wasn't built in a day-and neither was this! It took a few days to get them in the right place and assembled.
The appliances and the sink went in, and we were ready for more of the details. We have two dishwashers that are on either side of the sink. What can I say, we are a big family and I don't regret it for one second! It would have been a big project to add it later, and so for us-it just made sense. And having the sink in front of the window makes for a nice backdrop.
The hardware went up, and the details started coming together. We painted our pantry door a soft blue, just to break up the white in the kitchen. And we put a lock on the door because we have some liquor in there and thought maybe one day that would be helpful. It's actually helpful now because the kids always try to grab snacks 2 minutes before dinner is served!
I hand painted our brass chandeliers the same color blue as our pantry door. And it became a statement piece for the kitchen. The space became a little bit more thoughtful looking once the details came together.
One of the final stages of our kitchen build was the backsplash. We chose a carrara marble subway tile to coordinate with our marble countertops. And we wanted something decorative over the range to pull the look together, with the blue pantry door and other subtle blue touches.
Finally, we added this Schumacher 1889 fabric to a motorized roman shade. It is the perfect blue but the shade doesn't take away from the view. Other kitchen details we later included were these sconces that frame this large window. They are fabulous at night and just showcase a bit more character with their delicate lines.
Hope you enjoyed this kitchen tour, from start to finish! Kitchens are certainly the workhorse of the home, but a space you can find much enjoyment in. Thank you for reading! -Chrissie