Where to Spend and Save, at Home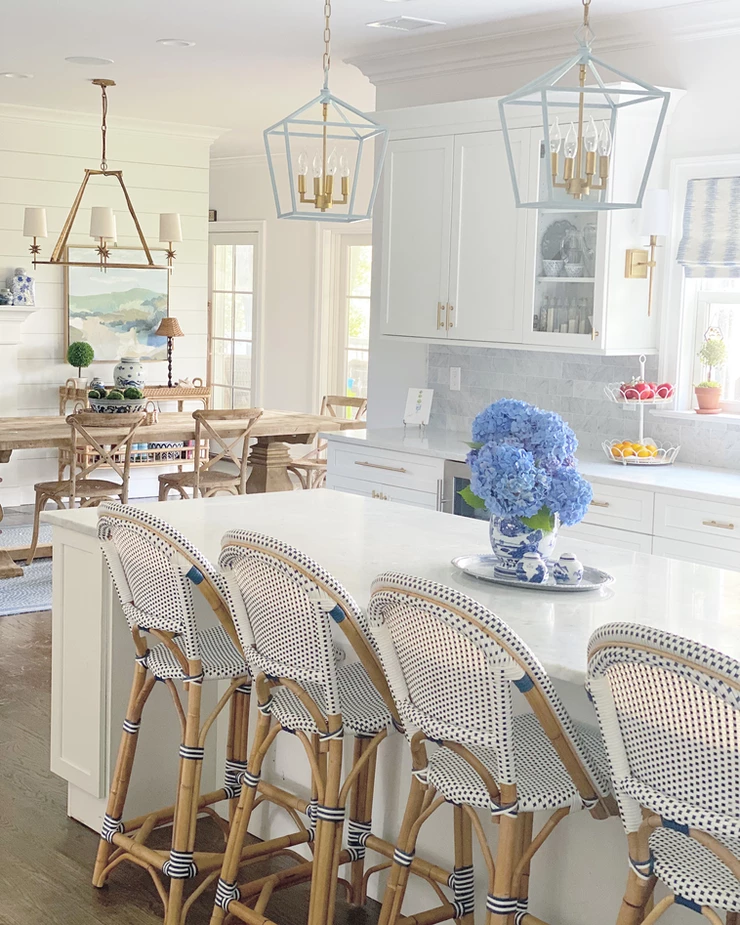 From the very beginning stages of building our home, I knew I wanted to find a balance between where to invest and where to save. Because let's face it, you can't splurge on everything. And if you can, lucky you! We had to really decide where it was important to spend money. Where do you spend so that you get a return? Where do you save on products that you won't continuously need to replace or fix? How do you build and decorate a home of quality but within your budget? How can you be frugal without sacrificing function and design? I broke down some important elements for you, below.
Where it's important to SPEND;
FLOORS (for the main area of the home). Of course one of the biggest investments in your home is not one I think you should try to save on. Sorry! Surely you should do your research as to what type of floor is suitable for your household. But after that, think about how often you will be replacing the floors. Probably never. If they start to buckle or separate, you'll be sorry that you didn't spend money in this area. A more expensive wood or tile doesn't necessarily mean the best outcome, either. Be sure you are sourcing someone reputable to do the install. Trust me on this one.
FAUCETS. Nothing hurts more than using a faucet for 6 months and you realize how junky it is. It starts to leak, you discover there's plastic inside, and the finish wears. And if that's not bad enough, its typically not something you have the knowledge to replace. Up next, a phone call to the plumber. Instead, use the money that you would put towards a plumber, and get the better quality faucet. And never worry about it again. In the very least, steer yourself away from the cheapest option.
MAIN FLOOR BATHROOM. Believe it or not, everyone thinks the Master Bathroom is where it's at. But actually, everyone in your household likely uses the main floor bathroom. All day long. You will be using it far more often than any other bathroom in your home, especially if there are children in the house. Find the gorgeous tile, get the nice faucet, and pick out the wallpaper of your dreams. Seriously!
COUCHES. Couches are where we relax, watch tv, chat with friends and family, and spend holidays. Furniture shopping is hard though! If you don't spend wisely here, you will notice the quality deteriorating faster than you hoped. Good couches can always be reupholstered if they wear down. If you don't have the funds to purchase a brand new, good quality couch, try your local home consignment shop. I have found many "diamonds in the rough" for half the price.
MATTRESS. I don't know why, but sometimes we always put ourselves last. A mattress is something we use every single day, so find the one you love! Think of your health finally getting its "return on investment". Get a good night's sleep, you deserve it.
MOLDINGS. One of the first things I notice in a home is the moldings. Is that weird? Is there a support group for this? Anyway, details like moldings can make a space go from okay to WOW in 2 seconds flat. This could mean crown moldings, raised paneling, or chair rails. If you're handy, you could even do a simple chair rail yourself! I like more substantial moldings for the main living floor, and simpler moldings upstairs where ceilings tend to be lower. Moldings make the home look more customized and less "builder grade", so add where it packs a punch and it won't go unnoticed.
KITCHEN. If you ever find yourself needing to sell your home, the kitchen is the first place people look, and an area where you will see a return on investment. Find yourself a great sink, a 5 burner stove or whatever the space can hold, and a dishwasher. Even if it's a space saving one. Maximize storage as best as you can. Avoid heavy trends in a kitchen so you don't feel the pressure to redo it sooner than you hoped.
CURB APPEAL. While it's not in everyone's budgets to landscape their entire property to perfection, I would encourage just about anyone to at least pay attention to the front of their home. After all, not only does this encourage more buyers if your house is for sale, but it definitely makes you feel happy and proud when you come home every day. Do you need the expensive planters? Well, that's up to you. But definitely have plants, flowers, nice lighting, and a nicely painted front door. I could go on and on about curb appeal...
Items that I believe it's important to SAVE on;
RUGS. And many designers might not agree, so hear me out. I am a mom of 4, and I have seen more rugs get trashed than anything. Spills, rips, stains, pets, ketchup, baby oil...I've seen it all, and cried over it all. The more expensive rugs don't always mean more durable. Or easier to clean. They just mean....more expensive and more panic attacks. Manufacturers make terrific indoor outdoor rugs now, and I am seeing more and more people use them inside. And when something spills, it cleans up nicely. I have even brought them outside in the summer to hose down, and they come out like new minus the price tag of professional cleaning. I also find it nice to change the look of a room with a new rug every once in awhile ("every once in awhile" is up to interpretation). I have an indoor outdoor rug for my staircase runner and upstairs hallway, and I have never looked back!
FLOORS (in guest and kids bathrooms). I am not saying that as a homeowner you should enjoy the expensive stuff and the kids should sacrifice it....well yes, that's exactly what I am saying. In my experience, kids do not appreciate the finer things. In fact it's quite the opposite. Get the reasonably priced tile for the floors in their bathroom(s). Have it be easy to clean, and easy on your wallet. Oh, and dark grout helps, especially if you have boys-we'll leave it at that!
CABINETS. Kitchens are where we spend the most time now. Not only are we cooking here, but we gather, chat, do homework, and chances are you have an area that's a dumping ground. But I will say that cabinets are expensive, especially custom wood cabinets in a large kitchen. Consider adding some open shelving that won't require a custom buildout. And while recessed cabinetry is a dream to have, overlay cabinets can be just as nice with beautiful hardware. Be sure that you have someone qualified to put the cabinets together. You can even customize the inner drawers down the road by sourcing drawer dividing products at places like The Container Store or Home Goods.
ACCENT FURNITURE. I am a really big believer that accent furniture can, and should, be moved around your house. You grow tired of looking at it in the same place and then you decide it comes to life again somewhere else in the home. It's an item you can easily swap out, sell on FB Marketplace, and especially not an item you should worry about ruining. That doesn't mean that you shouldn't spend money on that end table of your dreams, it just means that often times accent furniture can be interchangeable with your style and function. Don't over think it. Get that chair from Home Goods if you love it! Pair it with your beautiful end table and voila! You now have the perfect mix of high end and low end, and nobody will know. It's a great feeling and a tactic used by many designers.
ACCESORIES. Buy what you love, and only what you love. Go antiquing, find something unique that speaks to you, and collect what makes you happy. Use items already in your home to accessorize, like books. Chances are good that your guests will not appreciate that you spent $250 on that vase, and the topic will likely (hopefully!) never come up. If you like the finer things in life, try mixing a few of your sophisticated pieces with discounted items for the perfectly curated vignette.
RADIANT HEAT. Wouldn't it be unbelievably grand to have radiant heat throughout your home, especially if you live in an area with cold winters? If you can't afford it, consider adding it to a small area of high appreciation, like your Master Bathroom. Radiant heat could encourage buyers, but it won't hurt you by not having it.
All things considered, I will leave you with 3 final thoughts. It is of upmost importance that you purchase within your means and budget. The trouble over spending brings is really not worth it. Secondly, and especially if you are in the building/renovating stages, please prioritize home efficiency. An inefficient home means a higher cost to live in it. Do yourself a favor and insulate properly, explore solar panel options, and price out high efficiency appliances. Thirdly, only buy what you love. And only surround yourself with items in your home that make you happy.
I hope you enjoyed my Spend and Save thoughts! I definitely have a lot more to say about this topic and will write more about it soon. Do you want to hear more? Let me know. You can reply here or find me on my social media channels. Thank you for reading! -Chrissie