One Room Challenge (Week 1)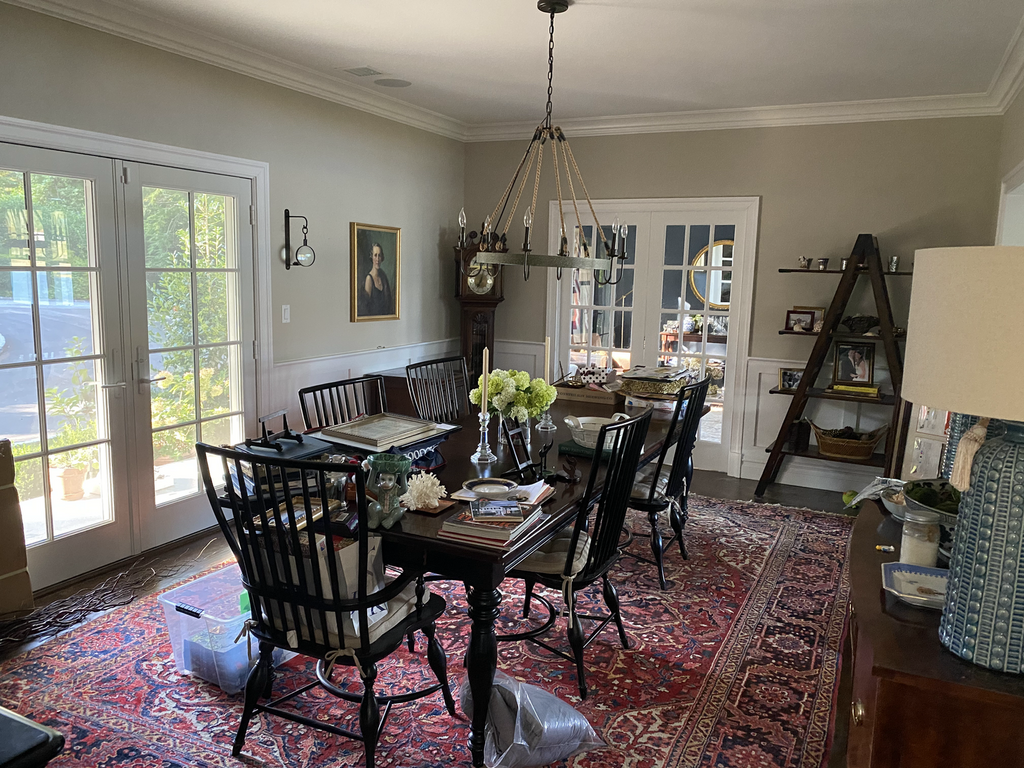 Today is a big day! It is the beginning of my 6 week journey with the One Room Challenge, presented by Better Homes and Gardens. If you are unfamiliar with the One Room Challenge, you can read about it
here
. I will be transforming a space in my own home, within the 6 week time frame, and will be sharing all my thoughts and design ideas with you each week on Thursdays. It begins with a plan, renderings, some shopping, and ends with a new space that is completely transformed. With a little DIY along the way.
If you haven't guessed already, the room I chose to makeover is our formal Dining Room. Why are we making over a room already when we just built our home 2 years ago? Well it is simple, it is a neglected room in the home. And if I can be perfectly honest with myself, there are a couple of them, but I digress. I never did anything with the dining room. The plan initially was simple: paint it, hang a chandelier, and use furniture from a previous home, just so we could move in. Now that my husband and I are both working from home, we use the dining room as a cut through to get to the office. And every day it is a reminder of "what needs to get done, but hasn't". I am ready to bring life into this space. And I am ready to share, with you, the decisions I will be making, and how on God's green earth I will be getting everything done in time.
The goal of this room is two fold. The first goal is to update it with a couple of new pieces of furniture. The furniture is all brown. Was there a period in time where everyone only bought things that were brown wood? I hope it's not just me! I have a brown wood table, brown chairs, brown hutch, brown grandfather clock, brown sideboard. My husband (then fiancé) and I purchased this for our first home together and it was bought as a (gulp) set. I am ready to challenge myself a little bit more and add in some contrast and character, forgoing the matchy-matchy (which I otherwise love, but not for this space). The second goal is to have it cohesive with the surrounding spaces. The dining room has pocket doors that open into the office which is dark navy, and it also opens up into our sunroom, which is light and airy. I want a neutral space in that respect, but I do want some color and life. Think classic, tailored, and with a twist.
Here's where I got stuck. Dang, it's only the beginning! The wallpaper I picked out, is now no longer available during the time frame I need it. So I am not off to a great start. The wallpaper matched the drapes which matched the tape...and I'm starting over. Regardless of that, I did finalize my chandelier selection down to 2. You can vote on my instagram stories which you like the best! I will be keeping my table, but swapping out my chairs. I will be finding a lucite curtain rod for the drapes on the French doors. And I will be sourcing some new artwork, a neutral rug, and storage!
My plan over the next 6 weeks:
Pick a wallpaper (finally) and install
Find new chairs (consignment?)
Something for storage-a sideboard with doors
Reupholster chairs if necessary
Thank you for following along with me. I will post something new about the ORC every Thursday here on my blog. Additionally I will be updating all of my instagram followers as time goes on. If you want to see what others are doing for the One Room Challenge, including rooms of the 20 of the Featured Designers, find that information
here
!