One Room Challenge, Week 4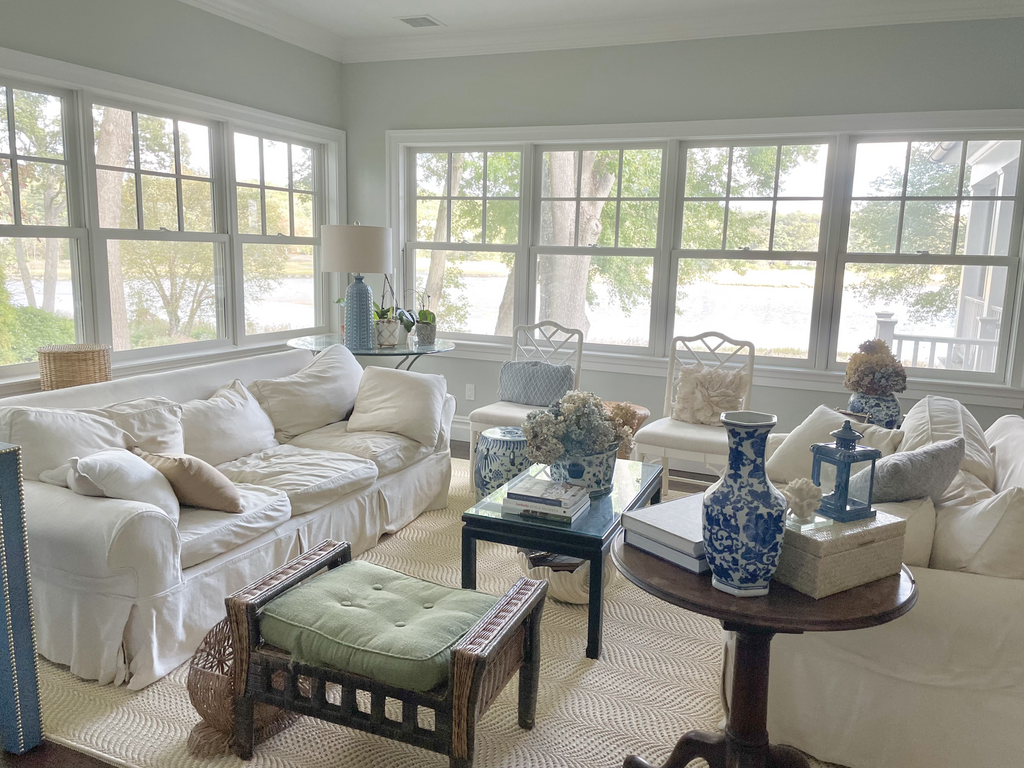 A live look at the room in it's current state
Oh no! Week 4 means we're half way there and I feel like I have so much to do!
I unwrapped the rug and it's sensational. I am so happy with it. The sisal really gives the space the "sunroom" feel I wanted. And it's a lot bigger than my older rug, which makes the room appear so much bigger. We repurposed the old rug from our previous home but the reality is that it was way too small. By having a rug that reaches all the walls, with about a foot of space in between, the room started to feel substantial.
I ordered 2 chairs, with ottomans, to sit across from the blue couch. I hope they will arrive in the next 2 weeks. Unfortunately the cushions for them were on delay so I will find a way to make new ones. I'm thinking about recovering regular dining seat cushions, for now.
I am hoping to get this light in. I think it will really make the space! But I only have recessed lighting in this room and it will be a little bit of a job ($$$) to get a chandelier up. But here is my dream lantern, and I will hopefully be able to hang it on the shortest loop so it doesn't get in the way;
As for the elephant in the room-the lattice-I am having second thoughts on it. I am thinking about calling in some reinforcements. And I am wondering if I should put it on the walls instead, and then paint the ceiling blue. Hmmm... Time is ticking! But that's the great thing about this challenge. If I didn't have a clock ticking, it would never get done. So here is the latest of how it is evolving, and wish me luck!
And if you'd like, check out what the other contestants are doing by
clicking here
.
That's all for now. Hoping to make big strides this upcoming week. Thanks for reading! -Chrissie