Coastal Decorating, without being overly themed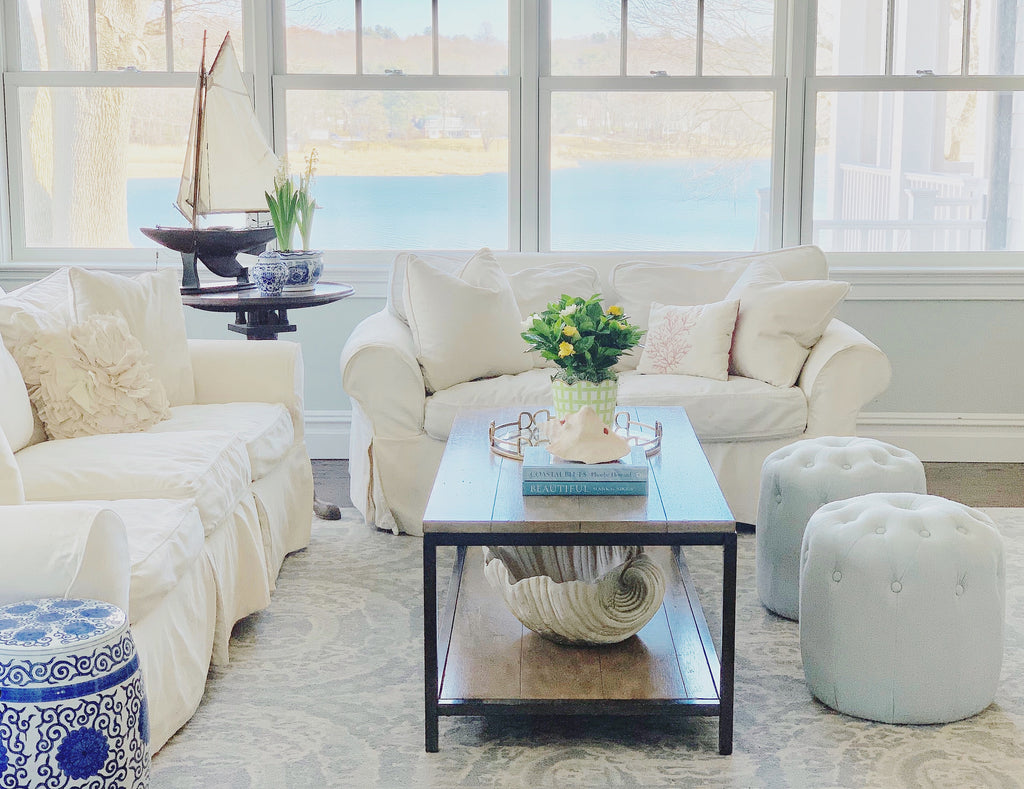 A coastal style home seems to be the fastest growing trend in the world of decorating. It is so relaxing and appeals to so many. When you walk into a coastal home you immediately get that easy breezy feeling that you get while on vacation. It's fresh, clean, and calming. Who wouldn't want that?
However, there is a fine line between walking into that coastal home that looks like its straight out of a magazine, and that Florida house you rented with your family back in 1995. Let's talk about how you can give your home a sophisticated coastal vibe without being overly themed.
1. Color
White is a great anchor color. This could mean either white walls to create a blank, fresh canvas, or white slip covered couches to give that clean, beach look. Having white (or light earth tones) as the anchor allows you to play around with blues and your accent pieces. White, blue, and natural colors seem to be 3 colors that work well together when creating a coastal home. Natural colored jute rugs provide a base without taking away from the coastal elements of the home. Incorporating cool blues into your home visually brings the ocean inside. Blue pillows, throws, and decorative accents give a pop of color but keep it coastal. Be careful though, the blues should compliment each other and not compete. See below for possible color palettes.
2. Decorative Accents
Sometimes one buoy on the floor, in a corresponding color, as a door stop is all you need for that little nautical nod as you walk out the door. That basket of collectible buoys could mean trouble if there's too much of it throughout your home. If you have something you like to collect, pick it as your one statement piece, without seeing it in every corner of the home. I like sea shells as accent items on top of books, but you won't see one on each of my tables. One table could have a decorative shell, while another could have a small jar of sea shells you have collected. Part of what makes coastal homes so appealing is that that are usually clean and decluttered. Often times collectible sea shells in many different places create clutter. If you like to collect sea shells, try putting all the shells in one decorative vase as a statement piece for you to continue to enjoy. Glass hurricanes and lanterns also provide wonderful coastal elements.
1. Houzz
3. Furniture
Slipcover couches are my go to for that coastal vibe. While seemingly unpractical, they are made nowadays to do well in the wash and hung to dry. Alternatively, Sunbrella makes a variety of slipcovers and they are to die for in terms of removing stains and holding up over long periods of time. If you're feeling bold, go for that one focal point/statement piece that will instantly scream coastal such as a driftwood glass top coffee table, or a pair of navy stripe club chairs. As for lighting, the key to any coastal home is natural bright light. But if you are adding any lamps, mother of pearl or inlaid bone lamps can give you a very coastal feel because it looks like seashells without being a lamp made of shells. This ties the look together quite nicely!
1. Wayfair
2. Target
3. Birch Lane
4. Serena & Lily
I will leave you here with photos of beautiful coastal homes for inspiration. Happy decorating!
Image from Coastal Living
Image from Coastal Living
Image from Coastal Living