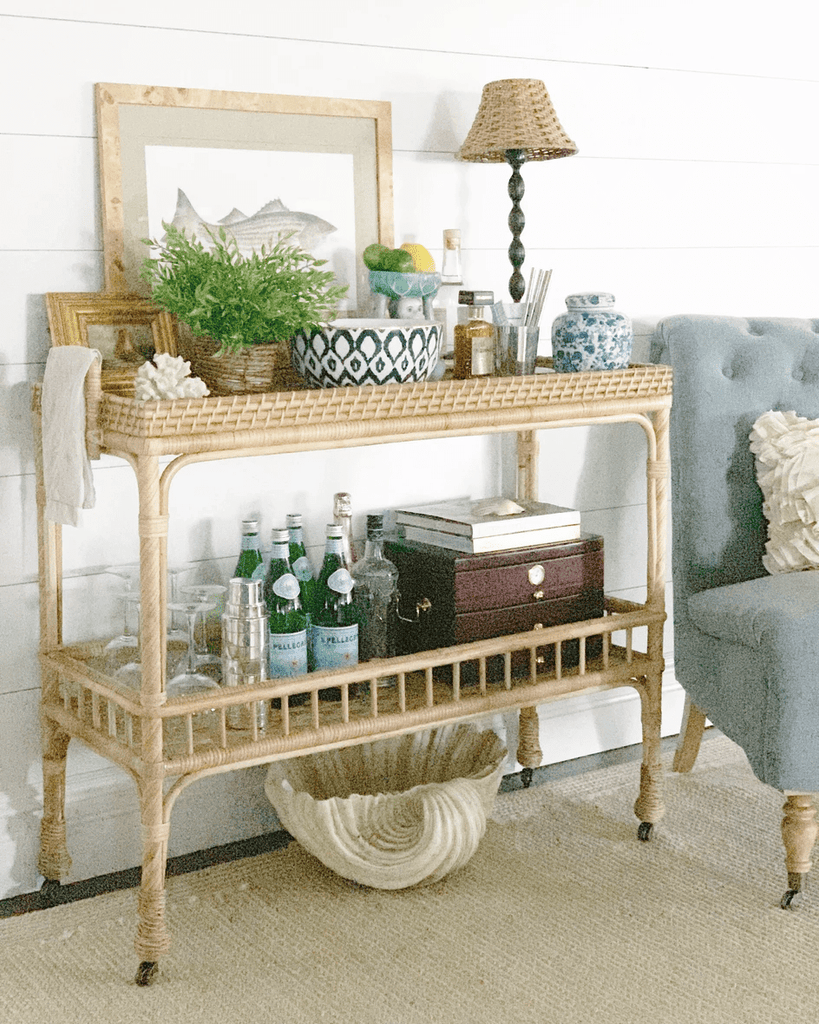 Calling all Bar Cart lovers...how obsessed are we?!
Serena & Lily South Seas Bar Cart
A trolley bar cart is exactly what you think: a mobile bar on wheels that holds all your happy hour items. They graced airplane aisles and house parties in the 50's. Once builders began creating wet bars in homes, the bar carts took a back seat. But alas they are back in, and for all the right reasons. Today, unique and versatile bar carts are gracing living rooms, dining rooms, small apartments, and even bathrooms. Function meets design with these chic carts that are not only pieces of furniture, but conversation starters that are so much fun to style.
For the last couple of years I had wanted a bar cart, and I finally splurged on the South Seas Bar Cart from Serena & Lily. It fit my comfortable coastal design but was still chic enough to add some sophisticated items. Here I will show you some styling tips, and how you can dress up your cart for function and design. I will also leave you with inspirational photos of bar carts, suitable for all budgets.
The first thing to remember is that the bar cart should be functional! You should be able to really use it as opposed to just staring at it in all it's glory (I get it!). First, I added glasses and some water; something just about everyone will ask you for. Pellegrino bottles are a pretty alternative to plastic bottles; but use what you have. Next, display the popular alcohol choices (vodka, gin) and keep other bottles you may have in a cabinet.
I added my husband's humidor on the bottom shelf. This is a long cart and I have space to fill. However, when grabbing a cocktail my husband probably wouldn't mind grabbing a cigar as well. It was otherwise on a shelf somewhere, and now we can showcase it.
3. Add Your Cocktail Accessories:
You will need straws, napkins, a corkscrew, and the necessary items to make a drink such as a shaker. I combined all four to save space. I usually go for stainless straws these days, as plastic seems to be wreaking havoc on our environment. This ceramic monkey was added as a whimsical way to display my citrus. He creates a fun element of surprise while making a drink. He's so cute right?
**Tip: add straws to a small ginger jar if you have one. A ginger jar doubles as function and style.
4. Ice Bucket for Function and Style:
To save space, this stylish bowl doubles as an ice bucket and a beer bucket. Local ingredients add a little character and may even become a conversation starter.
A small towel should be somewhere close in case of a red wine accident! Draped over the side keeps it out of the way, but accessible in a moments notice.
I saved the best for last. Have fun styling your cart with items that bring you joy! For me, this includes greenery, chinoiserie and coastal decor. This will allow your bar cart to be placed virtually anywhere in your home.
**Tip: Add a lamp to create ambiance.
I hope this gives you some inspiration to style a bar cart (or small console converted to bar cart!). The possibilities are endless with this piece of furniture. I will leave you with some fun carts I found to let your mind wonder. Thanks for stopping by! Clink Clink!
Thanks for reading! Leave any comments below!