How to transition your home from Christmas to Winter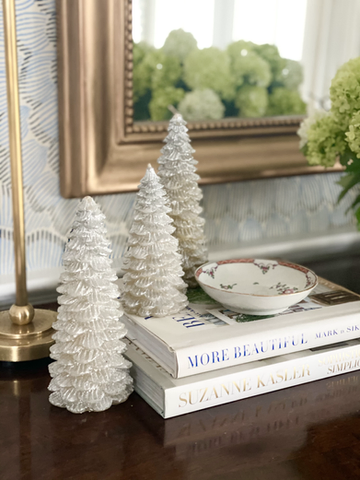 The holiday season has come and gone, and it's time for a long winter's nap. Here are a few tips to help you keep some decor up for the winter time.
1. DECLUTTER. The biggest complaint I hear about Christmas decorations is that it clutters up your home. Here is a great opportunity to donate some of the decorations you didn't use or like this year. It is of utmost importance to rid your home (and your soul!) of anything that did not bring you joy this holiday season. If you didn't use it this year, or last year, it's time to re-home it.
2. RED. Take away most of the red (Bye Santa, we love you!) The palette will be more neutral and calming, now that Christmas has passed.
3. TREE. I think it's fun to take the ornaments down but leave a bare tree up with lights! This allows you to pack the ornaments away with the majority of your Christmas decorations. If your tree is dry and dead, I suggest having it exit the home. But an artificial tree allows for it to stick around.
And finally, here are some items to keep around or add to your winter palette;
2. Greenery branches and trimmings for a vase
3. Snow related items such as snowflakes or icicles
4. Metallic accessories or something with sparkle and glam
5. Wood and textures, think Woodlands or Birch wood
6. Fur blankets and pillows
7. Painted white branches (could be a fun DIY)
Enjoy the winter season, and all the chilly (but cozy) nights it brings!
Thanks for reading! -Chrissie