Spring 2022 One Room Challenge, Bathroom Renovation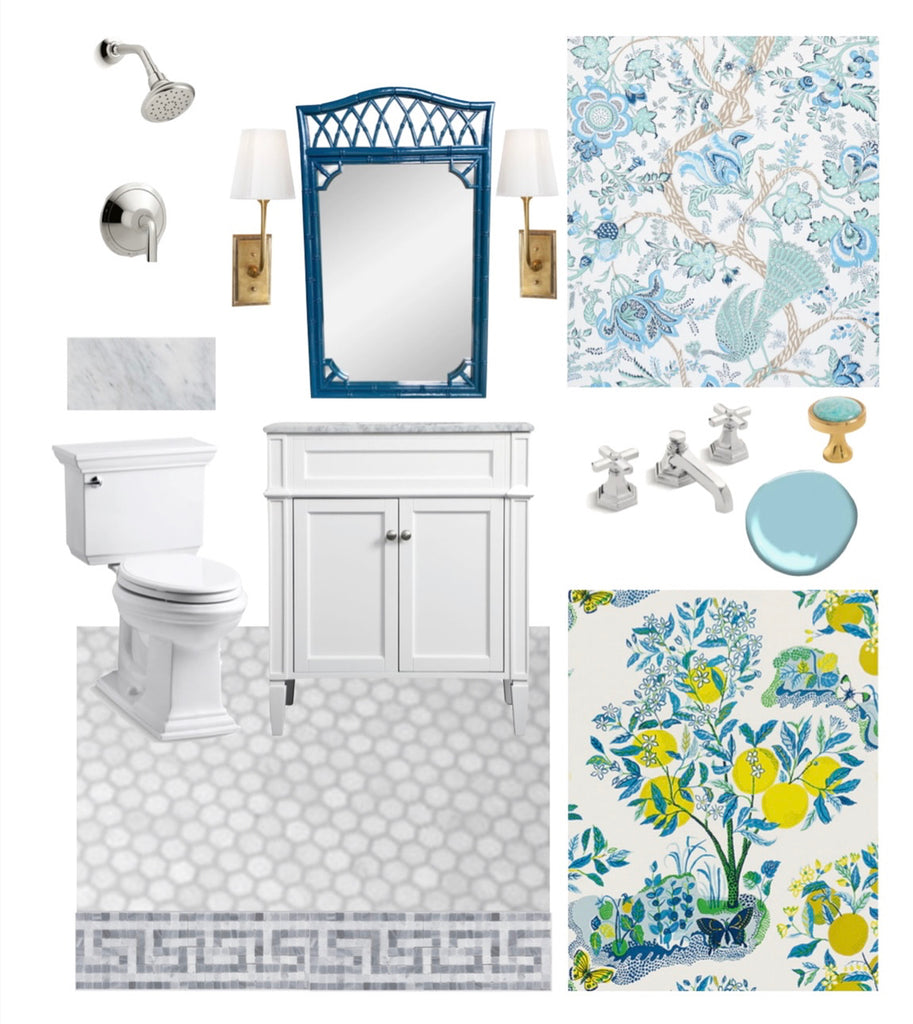 Welcome to another One Room Challenge Project! This time it is a bathroom renovation which I am both excited and nervous about. I have renovated many bathrooms at this point, but I am most nervous for this one because of the timeline and necessary things that need to fall into place to meet the deadline. But one I thing I have learned while designing homes, especially during the times we are in, is that beautiful things can happen even if you have to pivot your way through plans. Some of my favorite spaces had twists and turns that you wouldn't believe. This project in my own home will be no exception to that!
THE HISTORY
This bathroom was part of the footprint of the home when we purchased it. We gutted and built the rest of the home but left this bathroom alone. We changed the floors and painted-but didn't do much else because we wanted to focus on the main floor and the upstairs. This concept doesn't seem so far fetched, however slowly things started breaking. The medicine cabinet started peeling off, the towel bar fell off, and the shower plumbing broke. We have had 2 plumbers look at it, we have replaced parts, and here we are still with a shower that isn't working, and multiple unused parts that we never got to work. It has shown me time and time again that it needs help.
DEMO
The plan is to gut this bathroom completely. While I understand to some it is not a terrible bathroom, but to me it is sad and lonely. It is looking for life, and it is looking to be in working order. This is a bathroom that everyone uses when at the pool, in the backyard, or playing in the basement, and I am ready to get it working again. Especially the shower!
THE DESIGN PLAN
We will be doing small penny hex's on the floor, and matching marble subways in the shower. I am most excited for the tile because I will be laying out a greek key trim on the border, because I'm bougie like that. The fixtures will be mixed metals with polished nickel and brass. And the wallpaper is TBD. I unfortunately can't decide on the wallcovering and discovering how this unfolds will be exciting. Details like the vanity knobs and the sconce shades will be decided upon once I nail down the wallpaper. 
Every week I will be documenting progress and I hope you will cheer me on. You can see what other contestants are up to by visiting here
https://www.oneroomchallenge.com/blog/orcspring2022wk1
Thank you for following along! Your support means the world as I navigate my way through decisions and hopefully very few delays  -Chrissie